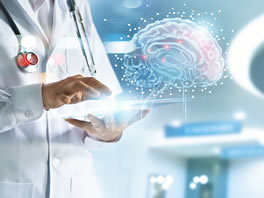 Neurosurgery, in other words, brain and nerve diseases, the treatment of tumors originating from or pressing on the brain and spinal cord tissue, as well as the treatment of back and neck hernia, head and spinal cord injuries, cerebrovascular occlusions and cerebral hemorrhages, diseases in the vessels feeding the brain and spinal cord. It is a branch of science that deals with the diagnosis and treatment of diseases such as aneurysms. It is the section that surgically intervenes in diseases that affect many vital functions, such as narrowing of the neck vessels and diseases that develop during the formation of the nervous system in newborns, epilepsy that does not respond to drug treatment, and selected Parkinson's cases. Diseases seen in both adult and pediatric patient groups are diagnosed and treated in the brain and nerve diseases clinic. Physicians working in the field of science, in which many advanced technology devices are used during surgery and microsurgery, work together with the departments of neurology, neuroradiology, neuroanesthesia, and apply the necessary diagnosis and treatment methods.
herniated disc
Full endoscopic discectomy is one of the newest methods in herniated disc surgery techniques. It is a closed transaction. Its comfort is high and recovery time is short. It is applied in two ways. The first method is applied from the side of the waist and is called "Transforaminal Interference". The second method is applied from the back of the waist and is called "Interlaminar Intervention". Since the endoscope is sent directly to the hernia area through a small incision of 5 mm, it is not necessary to strip the muscles and remove the bone tissue. Thus, the patient can be discharged on the same day and return to his normal life in a very short time.
Another benefit of endoscopic surgery is the anesthesia methods that can be used. It can be applied with local anesthesia in patients who are at risk of anesthesia due to concomitant diseases or advanced age or who are afraid of anesthesia. In this case, only the entrance area of ​​the endoscope is anesthetized and the operation is performed.
Another benefit of endoscopic surgery is that it can be easily performed in relapsed patients. Re-administration of microsurgery is risky in patients who have previously undergone microsurgery and subsequently relapsed. In this case, endoscopic surgery can be easily performed and is less risky than re-applying the microsurgical method.
Unilateral Biportal Endoscopy (UBE) is also a treatment option. It is a high-security minimally invasive surgery with 35 times magnification of the endoscopy video camera, by entering the spine through two 5 and 8 mm holes, without cutting the muscles and tissues.
It can be used for placement of screws and cages in spinal midline canal stenosis, midline hernias, facet kits, excessively large hernia fragments compressing the spinal cord canal, facet joint cysts.